Renew, Recharge, Reconnect:
New Beginnings Bali 2024
Wise Monkey Way's Rory Kinsella and Sober Yoga Girl Alex McRobert are teaming up for a breathtaking and transformative retreat in 2024 to kickstart or supercharge your sobriety.
Join us in the idyllic jungle setting of Ubud in central Bali for a barefoot luxury seven-day experience of meditation, yoga and workshops to understand and transform your relationship with alcohol for good. 
SEPTEMBER 14-21 2024, UBUD, BALI
Claim your place with a deposit now – spots are strictly limited
WHAT TO EXPECT?
On this beginner-friendly retreat, Rory will teach you the simple but powerful technique of Vedic Meditation, including getting your own personalised mantra and showing you how meditation can be something you look forward to.
Alex will lead classes guiding you to a foundational understanding of the essential self developmental practice of yoga.
Together, Rory and Alex will lead a series of workshops showing how meditation and yoga can remove your reliance on alcohol and open up whole worlds of new possibilities about what your life could be like after alcohol.
Alex is the founder of Mindful Life Practice and her Sober Yoga Girl program is the world's only yoga-centric sobriety method. Rory's Wise Monkey Way is the world's only meditation-centric approach to sobriety. Together the two approaches provide a unique and unbeatable holistic way of reducing reliance on alcohol and tapping into inner resources.
For more experienced yogis and meditators, there will be opportunities to learn advanced techniques such as advanced mantras and Vedic rounding.
Alex and Rory connected in 2020 through their shared philosophies and have since recorded multiple podcasts together. When they met in person for the first time in Ubud a couple of months ago, it didn't take them long to realise how much they wanted to collaborate on something and a retreat was born.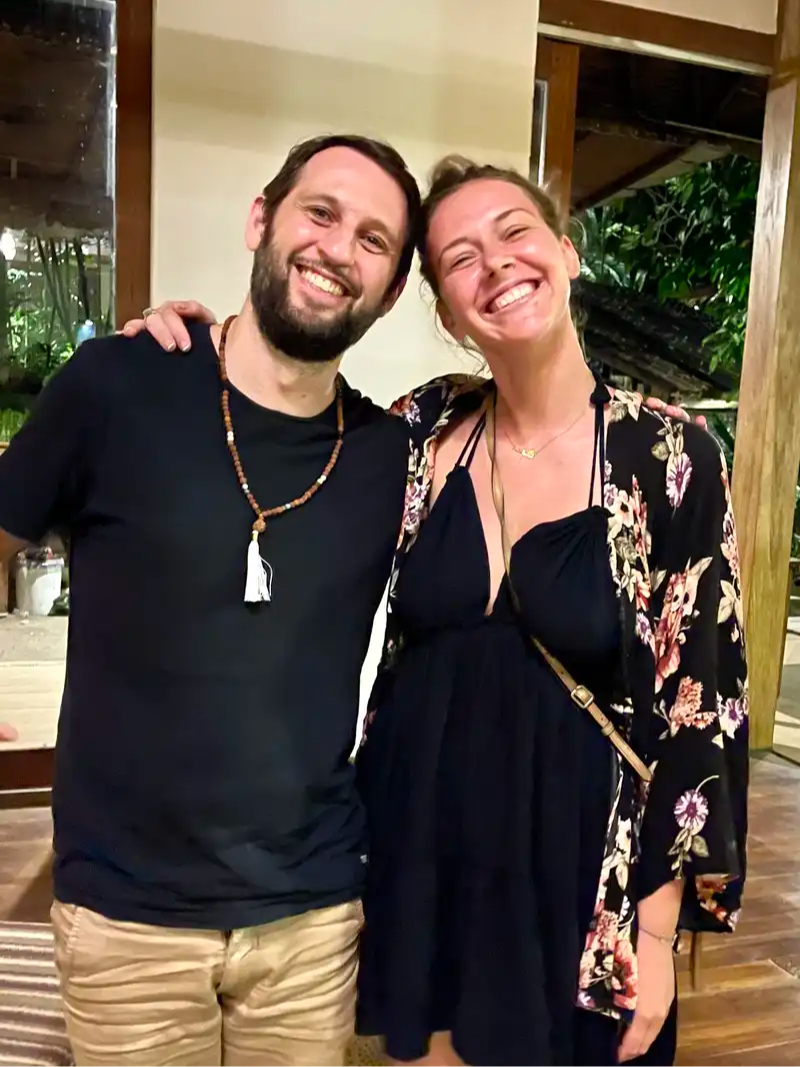 Rory and Alex – Ubud, September 2023
TRIP HIGHLIGHTS
 
DAILY YOGA SESSIONS
Alex will lead daily classes showing how yoga can help support sobriety.
VEDIC MEDITATION
Rory will teach the effortless technique of Vedic Meditation. If you're new to meditation, he'll get you up and running. If you're more experienced, he will give you a Vedic mantra, advanced mantra or introduce you to Rounding. 

DAILY WORKSHOPS & KNOWLEDGE TALKS
Deepen your understanding of how yoga and meditation can supercharge your evolution and take you beyond alcohol into the next expansive phase of your life.
DELICIOUS, HEALTHY FOOD AND LOCAL EXCURSIONS
Enjoy healthy and delicious meals and fresh drinks (no alcohol!!) and explore the wonders of Ubud with select excursions, all included in the price.  
ACCOMMODATION
Our retreat venue is located next to a river, surrounded by lush jungle close to Bali's cultural and healing centre, Ubud. 
Get blissed out as you unwind by the natural water swimming pool infused with crystals, meditate by the lotus ponds or stroll through the gardens.


We have single and twin rooms available. Most participants will be travelling alone so we will use our best judgement to assign shared rooms.
Getting to know new people is one of the best parts of a retreat and sharing a room is the best way to do it.
Secure your spot now with a $400 USD deposit. 
If we are not able to meet your room preference, you will be entitled to a full refund of your deposit.
The retreat runs Saturday to Saturday, September 14-21 2024. 
Payment plans are available to spread the cost over eight months.
Flights are not included. 
SOLD OUT: Single room
$3495 USD p/p
- King bed
- Private bathroom
- Limited availability
- Each room is unique – we will assign rooms in order of registration
SOLD OUT
Twin room
$2495 USD p/p
- Shared room
- Most shared rooms have balcony + outside bath
- Private shower
- We will pair you with someone we think you will get on with
BOOK NOW
CHECK OUT THE RETREAT CENTRE FROM ABOVE
FREQUENTLY ASKED QUESTIONS
What are the start and end times?
Which airport is the closest?
Is food & drink included?
What if I've never meditated or done yoga before?
Any information on this website is not to be taken as a substitute for medical advice. If you are concerned about withdrawal symptoms or other adverse reactions to stopping drinking, please consult your doctor.

We are based in Sydney, Australia and acknowledge the traditional custodians of the land on which we teach – the Gadigal People of the Eora Nation – and pay our respects to elders past, present and emerging.